What's new from Mido 2022
Much like the rest of the world, the Mido Eyewear Show had to endure a two-year hiatus, eventually taking place on 30 April-2 May 2022, belatedly celebrating Mido's 50th anniversary.
It was so exciting to meet people face to face at an optical trade show again, to touch and try on glasses. It had been so long, as I entered the show I wondered if I'd remember how to do my job! The opening event started with the world premiere of 'Infinite Visioni', a composition by the late Ennio Morricone. This was followed by presentations on the growth of the optical market during the pandemic and a journey through 50 years of Mido. Italian singer Dargen D'Amico took to the stage to wrap up this scaled-down but memorable event appetiser.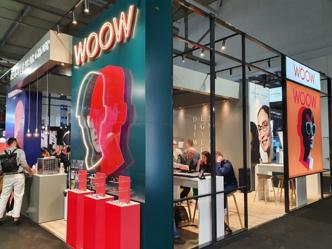 'Fair East', which usually occupies two halls, was conspicuous by its absence, but understandable with some countries' travel restrictions still hampering things. Still, everything else I expected to see was there. The traditionally quiet Saturday – due to most opticians still trading – was surprisingly busy, which spoke volumes about people's eagerness. Amid the palpable buzz, reps on stands were keen to tell me that while the pandemic has been difficult, the optical sector remained robust and the outlook positive. After a lap or two of the show, three key trends quickly emerged, which I've termed 'all angles', 'leaner acetate' and 'eco hero'.
All angles
This trend for frames created with lots of strong lines to give an angular shape is versatile and translates well from sunglasses to optical frames. Typically, with sunglass styles we are seeing a more dramatic, exaggerated form – Bayria and Danielle Rattray being fine examples. With optical, this trend has been softened for everyday wear. The overall look is less bulky and uses colours that are not too scary for consumers. Struktur and Zoo each do this well, with a subtle palette but a hint of stronger tones to emphasise the angles.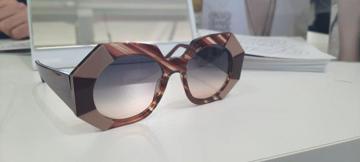 Bayria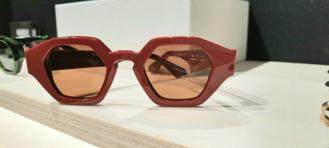 Danielle Rattray
Leaner acetate
Acetate frames have always been thicker and heavier than their injection-moulded cousins, so this can deter some consumers who find them heavy and uncomfortable. However, slimming down the design offers consumers a more agreeable experience, with the boon of acetate's limitless capacity for colours and shapes. My favourite lean acetate exponents were Tens, Marta Golo and Kwiat, each demonstrating a considerably thinner design doesn't sacrifice that acetate frame essence. Using less acetate is also more economical on resources, which brings us to…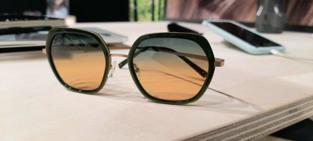 Tens
Marta Golo
Eco hero
The eco theme was certainly a focal point during Mido 2022. With the impact of the pandemic and plastic waste issues at the forefront, it's not something we can ignore. Being eco-friendly is not so much a trend but a movement, with many eyewear brands trying to find ways to create more environmentally friendly collections, increasingly by being resourceful and turning waste into something new and fun. Many have also opted for bio acetate (produced using plasticisers from renewable sources instead of oil-based ones), but I found three designers doing something a bit different:
Rolf Eyewear, made in Austria, uses castor beans as its raw material. The bean's toxic coating is removed before it's powdered, mixed with water and loaded into a 3D printer
Mita is using recyclable aluminium or old plastic bottles, recycling five of the latter to create each new frame. Finer details, such as the nose pads and the dummy lenses, are biodegradable in five to 10 years, while all packing materials, including the case and cloth, started out as plastic bottles too
Paradigm uses International Sustainability & Carbon Certification (ISCC)-certified recycled acetate flake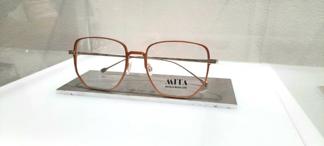 Mita
A New Zealand focus
Also in attendance was Mark Collman from Phoenix Eyewear. He was kind enough to share his thoughts on the show and which brands and styles from Mido 2022 he thinks will work well in the New Zealand market.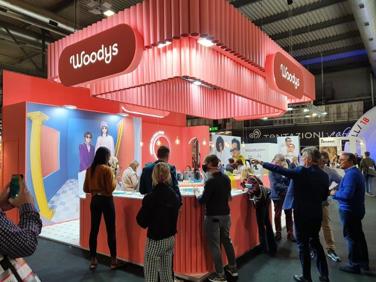 Overall, he said the show was smaller compared with previous years, so it felt more spacious, but the footfall was still good when you walked around. As to what works in NZ, he said, "Thicker frames don't work but bright colours do. However, do not mix the two together – you cannot have a crazy big shape with a crazy colour; it's one or the other. Brands to watch are Woodys, for their colours; Savile Row for the quality – because that is really important to us – and Albert I'mStein as the breakout brand, because they are cool and fun." Collman added that since older Kiwis have the spending power, he's not sure eco eyewear will be big right now, but the more eco-conscious generations might embrace it down the line.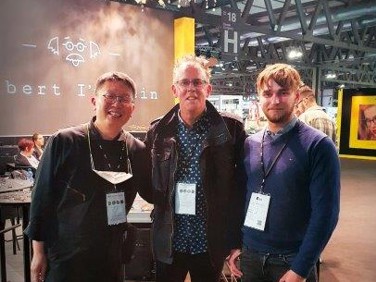 Albert I'mStein founder Diego Kim and sales director Cyprian Jesionowski with Phoenix Eyewear's Mark Collman
In summary
Mido 2022 did not disappoint. Even though it was smaller in scale this year, I still felt overwhelmed by how much there was to do and see, and still needed more time to take it all in. I was also surprised and encouraged by how many new startup eyewear brands there were, some of which even emerged during the lockdown. But the highlight for me was simply attending, being able to walk around and look at glasses, spot trends, try them on and talk to people who are truly passionate about what they do.
Our optical-show appetites whetted, it's safe to say it will be an exciting 12 months ahead, with Silmo in Paris later this year from Friday 23rd to Monday 26 September and Mido returning from 4-6 February in 2023. Hopefully I'll see some of you there!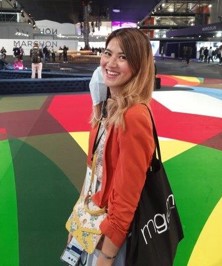 Siu-Yin Shing is an eyewear blogger and writer born in Hong Kong but now based in the UK. She is the editor and founder of the frames-focused blog www.myglassesandme.co.uk
Pictures courtesy of Mark Collman, Phoenix Eyewear, Dennis van der Maas, Beni Vision, and Siu-Yin Shing.