Celebrating orthoptists' shared care
This year's worldwide celebration of orthoptics is approaching, with 21 member countries of the International Orthoptic Association planning to promote the uniqueness of orthoptists' work on the first Monday in June (coinciding with the Queen's birthday public holiday in New Zealand).
World Orthoptic Day is a time for orthoptists to promote our specialised knowledge and clinical importance, especially as our roles continue to grow with more shared-care involvement in the traditional areas of paediatric and binocular vision and now in glaucoma, cataract pre- and post-op assessment and age-related macular degeneration (AMD).
Upskilling orthoptists
In the UK, the extended role of the orthoptist has allowed the profession to be an integral part of the shared-care approach to ophthalmology services. This has been well established there for the last decade, with orthoptists' current training covering skills in optical coherence tomography, topography, visual fields, intraocular pressures and refraction, to support outpatient clinics. This helps alleviate the increasing strain in accessing ophthalmology assessment, with many doctors and, increasingly, specialist ophthalmic nurses, simply not having enough hours in the day to meet all their patients' needs. This shared-care approach has been well audited by the National Institute for Health and Care Excellence (NICE) in the UK and has been shown to be crucial in maintaining prompt access to services, timely assessment of patient care and access to treatment.
In 2016, the UK's Royal College of Ophthalmologists (RCO) published the Common Clinical Competency Framework documents (CCFD) for non-medical staff in the fields of glaucoma, medical retina and cataract pre- and post-op assessment and care. The initiative included the Royal College of Nursing, British & Irish Orthoptic Society, The College of Optometrists and the Association of Health Professionals in Ophthalmology, and produced standard criteria and protocols to maintain clinical excellence in training and standardised care when using this methodology. Increasing access to clinical time and assessment helps prevent the 'postcode lottery' that can develop in healthcare and is sadly strongly prevalent in New Zealand.
NICE recognised, "…that appropriately trained healthcare professionals (HCPs) could diagnose ocular hypertension (OHT) and suspected glaucoma and make a preliminary identification of cases of chronic open-angle glaucoma (COAG). Furthermore, persons with a diagnosis of OHT, or suspected or diagnosed COAG, could also be monitored and managed under shared/delegated care arrangements within certain constraints."
Orthoptists already have the ophthalmic knowledge, placement in the hospital system and well-established collaborative-care ethos with other HCPs (optometrists, nurses and ophthalmic technicians) to achieve CCFD certification and to widen their professional abilities. So they are a natural choice as part of the shared-care approach. Today, orthoptists who achieve level 3 in medical retina CCFD are able to give anti-VEGF injections in the UK, which has proved crucial for timely patient care; Medicare in Australia is currently pushing for this too.
A New Zealand perspective
Can we translate this extended role to ophthalmic service in New Zealand? In principle, yes, though there are too few orthoptists, so our numbers would have to grow substantially to meet demand. We've always been a small workforce – 26 orthoptists are presently employed in New Zealand and there are a number of unfilled vacancies. There is an issue with recruitment and our current workforce is ageing without enough younger orthoptists coming through to replace them. One of the key reasons for this is the lack of orthoptic training in New Zealand; we can only recruit from overseas. Furthermore, orthoptics cannot be added to the essential skills-in-demand list (which would make recruiting easier) as there are too few visas processed annually (immigration require a minimum of 50) for the profession! So companies that employ orthoptists go through the same arduous process each time, whether they are an accredited employer or not.
The New Zealand Orthoptic Society (NZOSI) recently discussed the issues of recruitment and retention with the chief allied health professions officer Dr Martin Chadwick, together with the Accident Compensation Corporation, to recognise orthoptists as health professionals. Currently, patients with traumatic brain injury (where evidence has shown a high prevalence of binocular visual symptoms) have to be referred to an ophthalmologist who then requests an orthoptic review.
DHB shake-up to restore equity?
Orthoptists in New Zealand have been increasingly concerned about inequity of patient care and service provision across the country, with orthoptic cover only present in a district health board (DHB) where a consultant has worked with an orthoptist and seen the benefit of our profession. A number of DHBs don't have any orthoptic cover and rely on locums or orthoptists in other DHBs being seconded (or taking leave) to help, which is not sustainable. This is particularly prevalent in rural areas with large Māori populations, such as Northland and Tairāwhiti, where a lack of local orthoptic cover leads to a reliance on limited visits to provide skeletal cover. We hope the new Health NZ proposal and the ending of separate DHBs may be an avenue to address this inequity (see p6). The issue of training or accessing Immigration New Zealand's essentials skill register, however, will have to be addressed through increased staffing before we are able to help with more shared care, despite the obvious needs.
New Zealand orthoptists may be a small group, but we are passionate about what we do, are proud of our skills and can clearly see the opportunities to help in better provision of more ophthalmic services. We need more numbers to deliver equitable service across New Zealand and be a bigger part of the shared-care approach to service delivery. Currently Auckland District Health Board has set up training courses and competency standards 1-7 for ophthalmic assistants and technicians and now Canterbury DHB and Ara Institute of Canterbury are also looking to develop a course to train people as ophthalmic assistants or ophthalmic technicians, which is good news and bodes well for the sustainable future of ophthalmic services in New Zealand, if they come to fruition.
World Orthoptic Day is held every year on the first Monday in June. It is a day when orthoptists globally can promote the profession and its work: https://www.internationalorthoptics.org/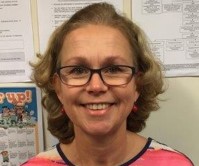 Sally-Anne Herring is a UK-trained orthoptist with more than 30 years' experience in orthoptics, paediatrics and neurophthalmolgy, now working in New Zealand's Hawke's Bay. She is an active member of BIOS, NZOSI and OA, served as secretary of the NZOSI from 2006 to 2017 and is currently NZOSI's AHANZ representative.