Doing it for the kids: Speckles' Maddy Scavone
Melbourne paediatric orthoptist Maddy Scavone had a dream – not figuratively, an actual dream – which woke her up and prompted her to start sketching. She drew adjustable spectacle frames that she envisioned would grow with a child, potentially saving parents a significant proportion of the annual AU$600 average spend on their children's specs. That was 2013, and she continued to work on the concept in the years that followed in between her day jobs, but it was the vacuum of lockdown last year that provided the nudge she needed to bring her new specs product to life and add it to her expanding start up Speckles.
"I've always been a natural problem solver, and I really wanted to have a job where I could help more people, so I became an orthoptist," says Scavone. "I'd see kids with their glasses slipping down their face and they'd be looking over the frames, not through the lenses, which would cause delays with their vision. Parents would complain about how hard it was to find glasses that fit their child (and) the costs involved every time their child outgrew their glasses. And that's when I sort of knew I should do something about it."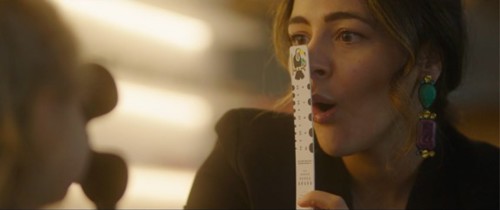 Maddy Scavone with a patient
Children's glasses make up such a small part of the service for your average optometrist's practice that it's not possible to stock a large enough range to fit every child in an abundance of styles, she says. "So ours is a unique solution for optometrists who might not see many kids but would still like to be able to offer those children a solution.
Fixing the patches too
While she was tinkering behind the scenes on a better specs solution, Scavone also noticed parents' constant struggle to get their amblyopic children to keep their patches on, so she got to work on designing better ones. "I realised that the elasticated band patches could easily move on a baby and the patches that fit onto specs frames don't block the light well enough," she says.
She also realised there was a lot of confusion among parents about shopping for patches online, especially around sizing, and some of the traditional brown patches also used adhesives that irritate children's sensitive skins. The biggest non-compliance issue, however, was aesthetics. Kids were understandably self-conscious about wearing a brown eye patch that looked like a Band-Aid, she says. "They didn't want to turn up at school and feel different from the other kids."
Thus Speckles' Hide&See adhesive eye patches were born. "These are one size and will fit a baby or me," says Scavone. "I use a smart adhesive that's non-irritating and can be pressed on gently for kids that need patching for a couple of hours or pressed on more firmly for those that need it all day. In either scenario, the patch still peels off painlessly."
She's even thought of the packaging, supplying the patches in zip-lock biodegradable bags, rather than boxes that crumble and aren't convenient for travel, she says.
The patches' designs – which include unicorns, emojis, peacocks and tropical fruit – are all Scavone's too. "I'm not too great at art," she laughs, "so the ideas are mine, but the artwork is by someone with actual art skills!" Research and validation began in 2016, with Scavone asking colleagues and friends to road-test the prototype patches, which come with a reward chart for compliant kids. "For me, the best part about starting Speckles is reading the emails and reviews from parents, thanking us for making something previously daunting a fun experience," she says.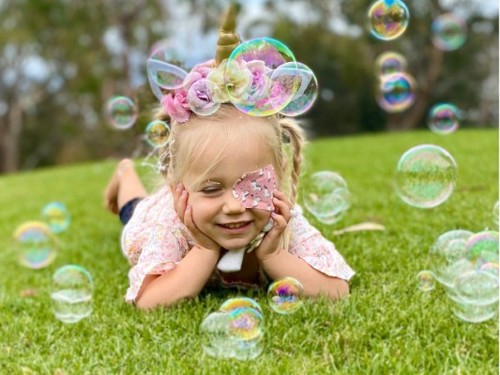 From orthoptist to entrepreneur
Scavone says the average Australian parent of a child with amblyopia spends AU$300 on patches and AU$600 on glasses every year; it's an AU$965m industry in Australia alone. Speckles is already claiming its share of the patching market. "I've found Amazon is a great way to test potential markets, since they take care of the nuts and bolts, such as inventory and delivery. At the start of 2020 we were spending $1,000 a month on upping our clicks on Amazon in the US and Australia, which got us up to $250,000 of sales. We don't spend that anymore, but the revenue has actually increased." She is also now selling Hide&See patches direct to the customer in the US, having acquired a warehouse facility for storage and distribution and she's planning on using the Amazon route to trial Hide&See patches in the UK and Europe.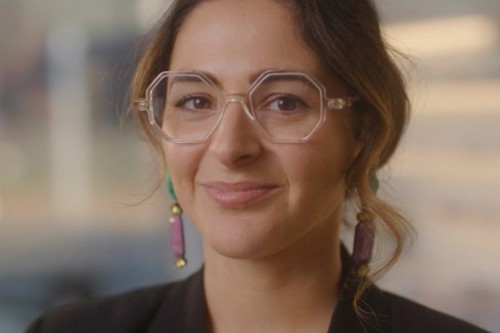 Maddy Scavone
One of aspects of her business that she's most proud of, however, is her decision to support Sightsavers, an international non-governmental organisation that works with partners in developing countries to treat and prevent avoidable blindness and promote equality for people with visual impairments and other disabilities, she says. From each box of 50 Hide&See patches sold, AU$1 is donated to Sightsavers.
"They do amazing work and I really wanted to support them in any way I could."
Speckles' patching success also provided the impetus for a line of unbreakable toddler-proof sunnies that also have UV400 filtering, says Scavone. "Really, a lot of kids' sunglasses are toys unless they have good UV filtering. It doesn't occur to a lot of parents that if they're wearing sunnies themselves, just chucking a hat on their children isn't going to be enough – they need proper UV protection for their eyes too."
In March 2021 Speckles teamed up with Remarkable, Australia's first accelerator for early-stage startups that are creating technology that positively impacts the lives of people with disability.
"A lot of other startup accelerators just focus on the long-term tech areas that exclude a lot of people," says Scavone. "I wanted to join the Remarkable programme to be part of the great community that they have and to work towards a future that's actually helping provide better access to services to more people around the world."
Reframing with language
Bolstering Speckles' physical products is community support via social media and the brand's website, where Scavone shares tips for parents on the importance of regular eye checks and easy-to-understand vision impairment explanations. "I really want to build a community, where we can have real conversations about day-to-day realities of kids' vision issues, while trying to make the language around it friendlier and more accessible."
It was this belief that led to Speckles' recent Curious Eye campaign, launched to coincide with amblyopia awareness month in August. "Research shows that diagnosing a child who has amblyopia and labelling it 'lazy eye' kicks off their journey to better vision with a defeatist mindset," says Scavone. "So we think of the amblyopic eye as more curious than lazy – more easily distracted but developing at its own pace and learning. With the right support it will be an equal team player to its partner eye."
The Curious Eye campaign
Part of the campaign included online 'Patch and Play' events, with kids encouraged to don their eye patches and join in fun activities. Scavone says the feedback was great, with kids and parents asking that it be made a regular event.
So does she miss the luxury of clocking off at 5pm from her former day job? "I loved my job, but it didn't allow me the satisfaction of any creativity. Even though I work some crazy hours nowadays, I'm getting to exercise all those muscles, while still helping kids, which is all I wanted to do in the first place."
Scavone's new adjustable glasses for kids should be available in early 2022, to coincide with back-to-school eye checks, she says.
For more on Speckles' adjustable kids' specs programme, email Scavone at hello@specklesforkids.com or see www.specklesforkids.com